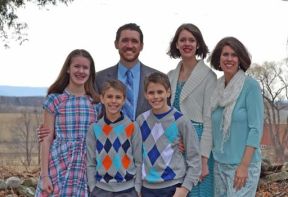 Ryan Clark is an acting member on the board of directors for Sweet Bread Ministries. His role is one of a limited capacity due to the fact that he also serves a parish full time.
The story of Ryan's life is one of being brought along "from glory to glory" (2 Corinthians 3:18). Ryan was born into a Christian family where his family and he attended a Lutheran church weekly. Here he was baptized and learned the basics of the faith through faithful pastors and parishioners.  
Then, in college, God touched him through a professor in order that he might taste "how wide and long and high and deep is the love of Christ" (Ephesians 3:18). For the first time in his life, Ryan began to understand that the Gospel applied not only to everyone else, but also to him.  After spending a year in tears of thankfulness, Ryan attended Concordia Seminary, St. Louis, MO, where God continued to teach him and deepen his faith.  
Following seminary, Ryan took a call to St. Luke's Lutheran church in Wisconsin.  While here, he was mentored by several Lutheran pastors and in the school of the Holy Spirit.  This was also where he met 
a man named Bruce Van Natta!  God has used this relationship to strengthen both of them and teach them even more of what the Gospel entails.  
After four years of serving in WI, Ryan received a call to Trinity Lutheran Church in Walden, NY, where he served for over 10 years.  Ryan was so blessed during his time in New York as he witnessed countless numbers receive the Gospel, come alive in the faith, and experience the grace of God and the finished work of the Cross through signs and miracles.  
 In June of 2016, Pastor Clark received a call to pastor St. John's Lutheran Church in Buffalo, MN.  He is thankful for all Jesus Christ has done through the Cross and in his life, and is excited for all He has yet to do!  Truly, "Jesus Christ is the same yesterday, today, and forever" (Hebrews 13:8).  To Him be the praise!